Adventarian Everest Expedition 2005 - Nepal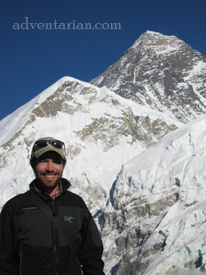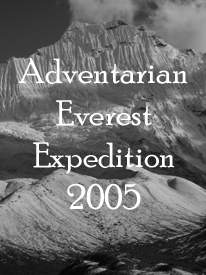 For the month of October 2005 I returned to Nepal to walk the historic route of early Himalayan explorers. My trek started in Jiri, at the end of the road, in the Middle Hills and then onto Everest Base Camp, in the upper reaches of the Nepal Himalaya. The area around Mt. Everest is called Solu-Khumbu and is a National Park (Sagarmatha) as well as being a UNESCO World Heritage property since 1979. Most of the rivers in Nepal run North-South and the beginning the trek is from West to East. This makes for an extremely hard trek as you traverse many watersheds made up of very deep gorge like valleys until you reach the Dudh Kosi, which you follow North upwards toward Tibet and the Top of the World. From Jiri to Everest Base Camp and back down to Lukla, including the many side trips I climbed approximatly 13000 vertical meters in 29 days!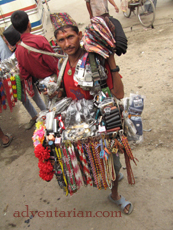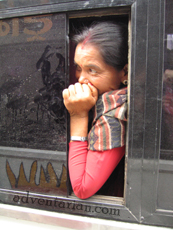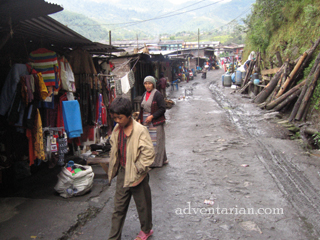 From Kathmandu to Jiri it is a long and crueling 10 hour ride on a local bus. You have to watch your bags closely because things are known to go missing if you let down your guard or pack it on the roof with other people's stuff. It is possible to take less time but just as easily it could take longer as the roads and busses are still very much developing. Most of the busses are made in India and simple in construction making the for rather easy roadside repairs, which are often needed!!! Our bus driver had Hindi music blaring the whole time except for the stops at military check points. It was so nice to get off the bus and start to use my own power to move through the country side.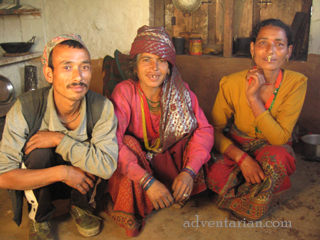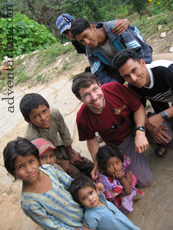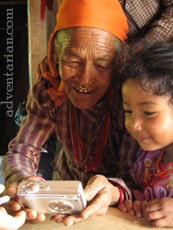 During the first few days of our trek we met Gorman, a student, returning to his family's house in Kansthali for Dasain, Nepal's biggest festival. He and his uncle invited us to his home for a couple of days. This turned out to be a highlight of not only my trek in Nepal but possible my life. They were very gracious and generous hosts. Nepal is one of the poorest countries in the world and to be able to see and experience the daily lives of the local people was so enlightning. They had no electricity or running water. They saw themselves in a picture for the first time on the back of a digital camera. When giving a candy, the older people didn't even know how to unwrap it. But they had everything they needed and everyone had the biggest smiles. They grew a multitude of crops on fields generations of people had painstaking carved out of the side of the steep valley. They had a couple of cows, some chickens and a pig. Their house was made of local rock and wood, all carried to the site on their backs. They were so friendly and welcoming that when it was time to leave we all shed a few tears. Thank you so much Gorman and Family!!!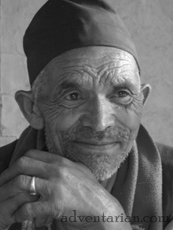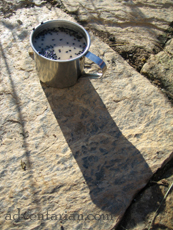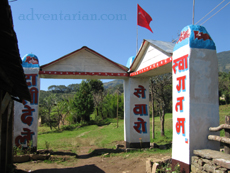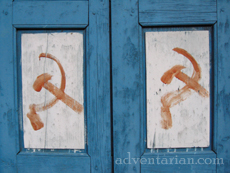 Nepal is in the midst of civil war, the King's Government against a Maoist insurgency. At the time of our trip and the areas that we travelled the Military had control of most of the roads and the region including and above Lukla. Inbetween the Maoist were in control. You could see the sickle and hammer painted on many builds and even a few temples. In the village of Bhandar the Maoist have actually built a gate (as seen above). Every trekker that passed through had to pay a tax. The price changes often, depending on where you are from and how good you are at bargaining. They charged us 5000 rupees each but we ended up nogotiating for about 30 minutes and got it down to 3000. One Canadian dollar is about 60 rupees so that works out to about 80 dollars, a huge amount of money in Nepal were the average person earns about 210$ a year. Other than having to give the Maoist money we had no problems with them.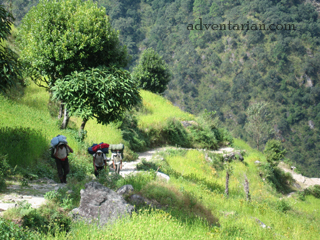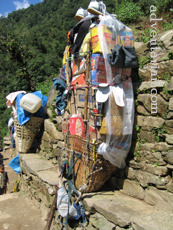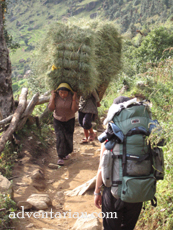 In the countryside everything is carried, either by yak or mule but more often by the people themselves. They are some of the strongest people that I have ever seen in the world!!! You can see some of the kinds of loads they carry, sometimes upto or over 100lbs (45 kgs)!!! On average, the men and women respectively carry 93 percent and 66 percent of their body weight (as reported in an article by National Geographic). Below you can see a typical lodge were we stayed, this one was in Sete. Almost every Lodge has the same menu: Fried potatoes, fried rice, pasta, soups, and Dahl Baht (a traditional meal of rice, lentil soup, and potatoe curry). Although each place cooks them a little differently the food is very predictable. Wood is often used as fuel but as you get higher into the mountains yak dung is also burnt. Check out the building with Yak paddies drying on the side of it!!!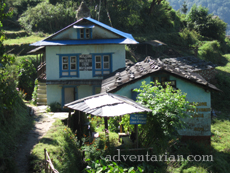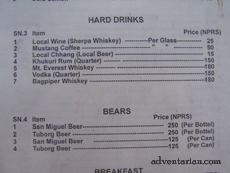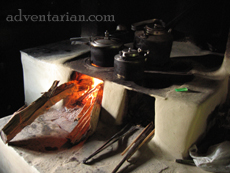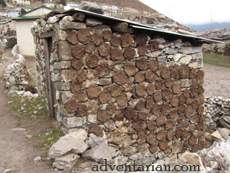 Religion plays a stong role in the lives of the Nepalese. Generally Hinduism is more common at lower altitudes and Buddhism more prevalent the higher you go. Temples, Chortens, Mani walls, Mandalas and other Buddhists influences are a common sight in the Everest Region. Many Tibetians are refugees in Nepal. I was lucky enough to meet a group of them and try to carry one of their heavy packs for a short distance.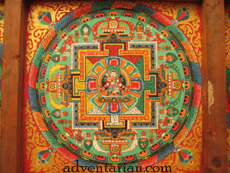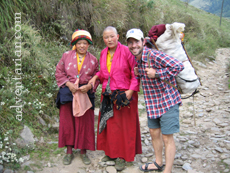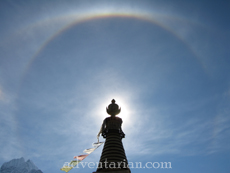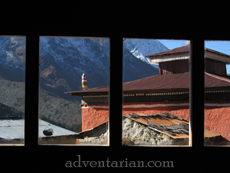 Namche Bazaar (3420m) is one of the main villages in the Everest Area and almost every trekkers spends a few days there. Most itineraries call for at least one acclimatization day. Altitude sickness is a real threat at this elevation and higher. Ascending slowly and keeping rested and hydrated are keys to gaining elevation safely. Below you can see Namche as it is tucked into a sheltered area on the side of a mountain. Yak bells are for sale, as well as many other local and
Tibetan crafts, in the street stalls that line the narrow alleys. The outside world is very much influencing this community as internet cafes and satelite TVs are not uncommon. If your digital camera's memory card is full you can also burn a couple of CDs!!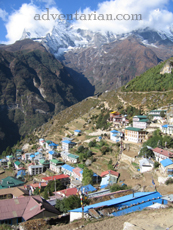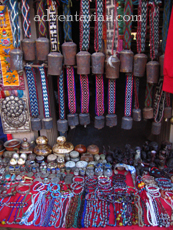 From the village of Dingboche (as seen below) we trekked up the Imja valley to Chhukung (4730m). It was a fantastic place and I definately recommend going there for a couple of days. It is good for acclimatization and the views of Lhotse (below), Amphu Lapcha, Makalu and Ama Dablam are incredible. The scale is so immense that it is almost impossible to understand the dimesions of such an intensely vertical world.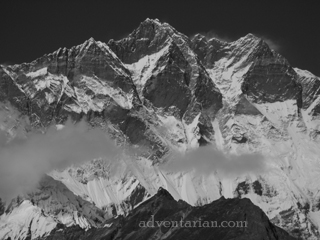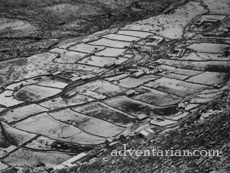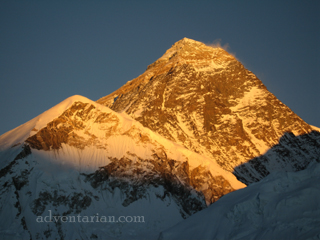 Sunset on Everest as seen from Kala Pattar, a ridge upon Gorak Shep (5160m). Everything you do at 5000m takes an effort. You can really feel the lack of oxygen in the air. It is such an amazing place, so beautiful, so powerful.........breathtaking!!!!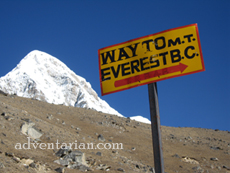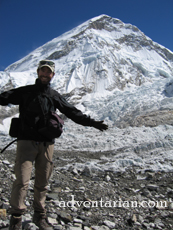 Everest Base Camp is actually located on a glacier at the base of the Khumbu Icefall. There were two crashed helicopters, and a couple of chortens, but not a single tent.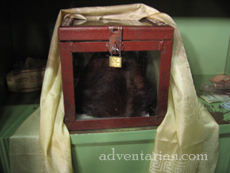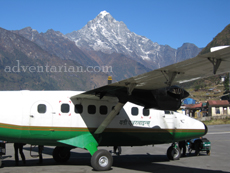 On our way back down we stopped in Khumjung, just above Namche Bazaar, to take a look at a Yeti skull in the local Gompa. We flew to Kathmandu from Lukla in a small airplane with Yeti airlines. The runway is actually built on an angle to slow landing planes down and speed up ones that are taking off. It felt like we were in a lottery waiting for our plane to arrive because schedules don't really mean very much in a place that is affected so much by the weather. Everyone cheered as their plane arrived, so did we!!!! It didn't even take an hour to the cover the same amount of terrain that took us over a week to walk a month earlier. The views were outstanding, but it was a shock to be back in the chaos of Kathmandu. Gorman met us and showed us around some of the sights. Nepal is an amazing country and I can't stop dreaming of the possibilities of future adventures where the earth touches the sky, and the air purifies the soul.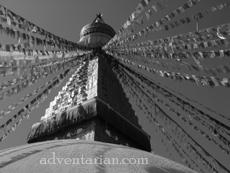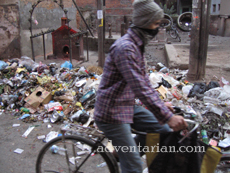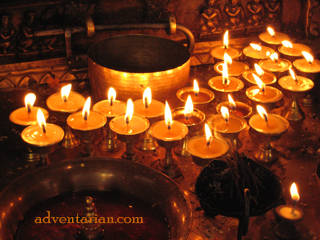 Adventarian Expedition Nepal 2004
In October and November of 2004 Mika and I put our packs on our backs and headed off into the Nepal Himalayas for the trip of a life-time. We did two treks both in the Annapurna area north of Pokara taking us almost 400kms through jungle, deep gorges, barren Tibetain plateau like areas and high elevation mountain passes. We had innumerable adventures including eating fresh yak intestines, meeting with a reclusive Buddhist Lama and witnessing a massive avalanche at Tilicho Lake, the highest in the world! It was a truely amazing trip! Please enjoy some of my pictures below!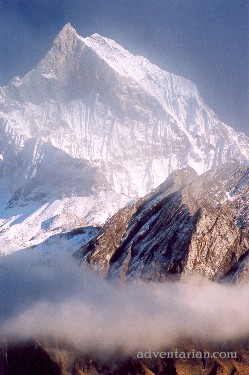 Machhapuchhare Mountain as seen from the Annapurna Base Camp trek.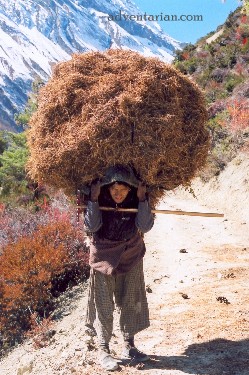 Unbelievable! There are few roads in Nepal so everything is carried!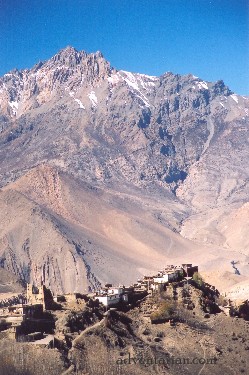 The ancient village of Jharkot.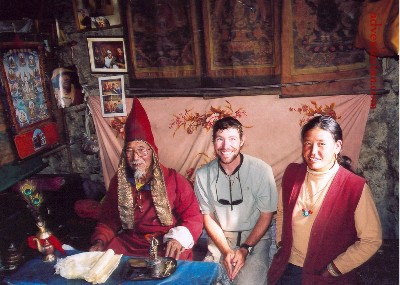 A lucky visit with a lama! He blessed us for good luck and to safely go over Thorong Pass.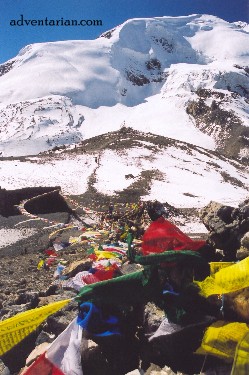 Thorong Pass. The highest point we reached on our trek: 5416m! We didn't have any problems with altitude sickness because we had done a good job acclimatizing to the elevation and of course had blessing from a Lama!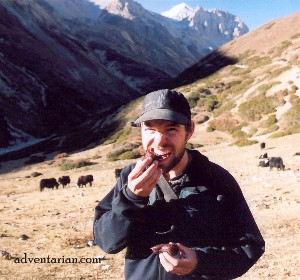 Anyone for fresh Yak intestine?!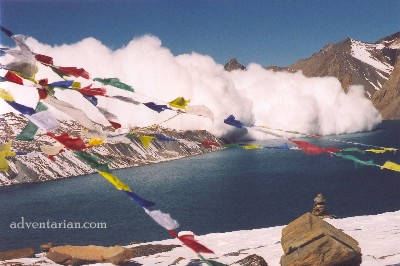 An avalanche thunders across Tilicho Lake: the highest in the world at 5000m.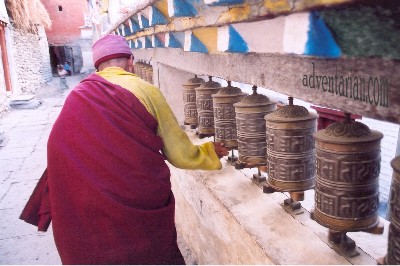 A Tibetan Buddhist monk spinning prayer wheels in Kagbeni. Everytime a wheel spins a prayer is released in the air.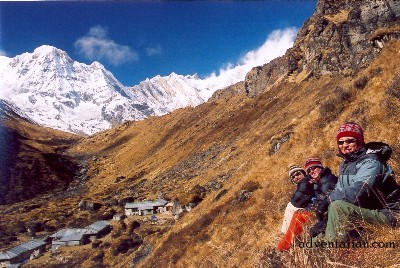 Amazing views of Machhapuchhare Base Camp. My super trekking partner Mika is on the right and our new friends we met along the way Brian and Debbie. Thank you so much Mika, it sure was an adventure, wasn't it!!!!!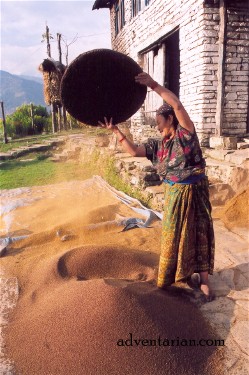 Hard at work with this year's harvest.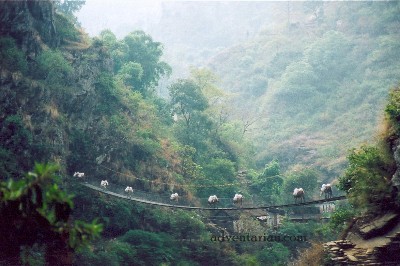 The ubiquitous mule caravan.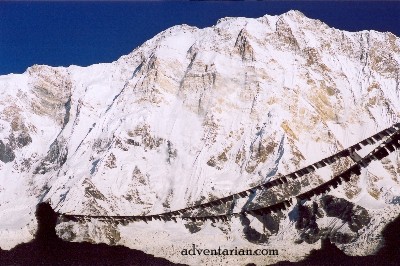 Sunrise on the south face of Annapurna one with silhouetted prayer flags.
Brad Towle