2005 Adventures
December 31, 2005. Gilbert Plains, Manitoba. Happy New Year!!
Out with 2005 and in with 2006! What a year it has been. Around the world 2005 has been very eventful, not all of them good. But I have been blessed with a fantastic year and am so grateful. I've been so lucky to do so many things: Skiing in Hokkaido, working at the World Expo, the side trips while I lived in Japan including a trip to Kyushu and climbing Mt. Fuji, visiting family and friends and trekking to Everest Base Camp (to list just a few!). Thank you everyone for making 2005 one of the best years in my life..... and I hope that 2006 will continue to be full of adventures!!! Best Wishes to Everyone!!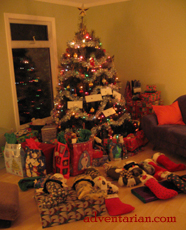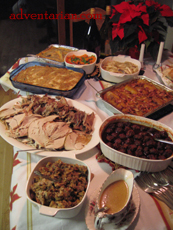 December 24, 2005. Winnipeg, Manitoba. Merry Christmas everyone!!!
This is the first Christmas that I have spent with my family in 5 years!! I'm very excited!! We went toboganning today at a small park close to my brother's house. The tree is decorated and there are presents stacked under the tree. Santa is on his way and it is time to have some fun!!! Please have a safe and wonderful Christmas!!!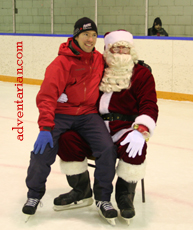 December 17, 2005. Gilbert Plains, Manitoba.
What would Christmas be without skating with Santa?!!! This Saturday at the local hockey arena Santa took some time out of his busy schedule to come skating!! It was great to see all of the children so excited to see him. And I have to confess that I was pretty excited to see him as well!! He said that I looked like I had been a good boy this year!! I hope that I get some good presents!!!!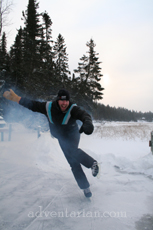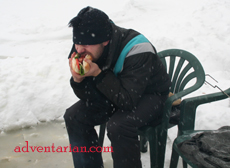 Where am I? December 15, 2005. Singush Lake, Manitoba. I love my cabin in the Duck Mountains! I never truely feel like I have been home until I spend some time there. We were almost snowed in after 4 days straight of heavy snow, but i didn't care because it made for great snowshoeing!!! We also cleared off some snow from the lake to make a small skating rink. We cooked our lunch over a bonfire on the ice. Winter is definitely one of my favorite seasons to be at the cabin (spring, summer and fall being the others!!!).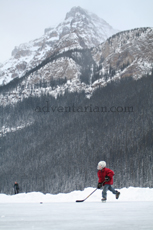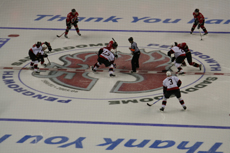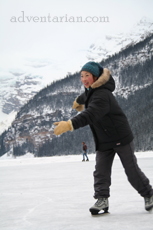 Where am I? December 10, 2005. Calgary, Alberta. The Rocky Mountains are beautiful in Winter and there are so many great opportunities for winter sports. The last couple of days I was able to go snowshoeing in Kanannskis country and enjoy the winter wonderland environment of Lake Louise. It is such a different experience than visiting the Rocky Mountain Parks in Summer and I totally recommend it to anyone! My good friend Bernie also got some tickets to a Calgary Flames game. They beat the Ottawa Senators in overtime! I haven't gone to a NHL game since the Winnipeg Jets were still in Manitoba!! Great game, I love Hockey!!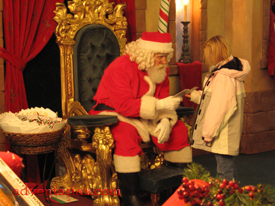 December 2, 2005. Gilbert Plains, Manitoba. This last weekend my parents and I made a quick trip into Winnipeg and stopped by to see my grandma in Portage la Prairie. We did some shopping and met some friends. A very quick but good trip. At the mall guess who we ran into but old Santa himself. I am looking so forward to Christmas!!! Today I'm heading to Regina and then onto Calgary to visit more friends and hopefully a day of snowshoeing in the Rockies. It is so great to be home!
November 25, 2005. Gilbert Plains, Manitoba.

I'm back at home now in rural Manitoba. It is really great to see family and friends again. I've been helping redo the basement and spending time up at my cabin trying to relax and recover from my last adventures. Taking down walls, scrapping floors, painting, chopping wood, hauling water, reading......alot different than life at Expo and in Nepal!! I'm really happy to be home though. The lake is frozen at our cabin and I wish I had my skates ,which are in storage in Canmore, because there isn't much snow yet so you could skate the whole length of the lake. Today we are building shelfs then heading back to the cabin to see my sister and her fiance Dean. Can't wait!!
November 4, 2005. Kathmandu, Nepal.
To the top of the world and back!! This morning we waited anxiously at the airport in Lukla for our small plane to come and wisk us back to the excitement of the big city. It did come and the flight over the hills with the snow covered Himalaya in the background was fantastic! The take-off was also exciting because the runway is actually built on an angle to slow down incoming planes and speed up outgoing ones. The plane just screams down the short runway and off the end of a cliff! Our trek went very well. The views of Everest did not disappoint, unbelievable!! Being at high elevation is a very strange feeling. Everything you do has to be slow and easy, even packing your backpack, or else you run short of breath. The air is very thin over 5000 meters! But we took our time and had no problems with high altitude sickness. I love Nepal and I can hardly wait to return! In a weeks time I should be back on the Canadian prairies!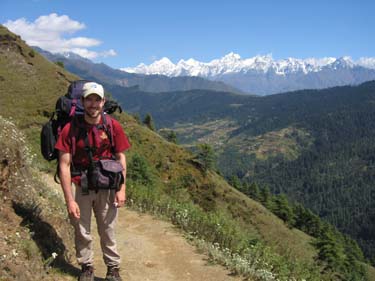 October 18, 2005. Namchee, Nepal. After 2 weeks of trekking we are now in the Sagarmatha National Park in the Nepal Himalayas and ready to head to Everest Base Camp!! It should take another couple of weeks to get there and back. I'm so excited!! Our trek from Jiri through the lower hills was hard work but so amazing. We met a young student who invited us to his house. We were only the second outsiders since some Germans came to set up a school there some 40 years ago. While we were at his house almost the whole village came to take a look at us!!! We are safe, healthy and happy at the top of the world!!

September 27, 2005. Nagoya, Japan. Expo is over! The last few days have been so intense. The closing ceremonies, packing, last minute clean-up and goodbyes.....so many heart breaking goodbyes. It is so hard to believe that it is over, it almost feels like it was a beautiful dream. Expo 2005 has been awesome and possibly the best 6 months that I will ever have in my life!! I`m going to miss it all, even the annoying guard men! I start to cry every time I think about it. Thank you so much to everyone that I have met and become friends with. You are all so fantastic, I`m going to miss you all very much!! Merci, Kansha, Arigato!!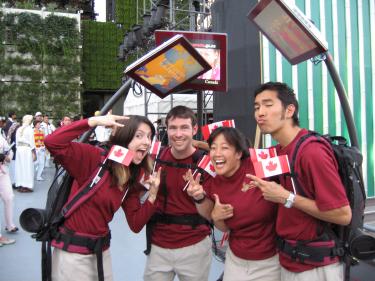 September 18, 2005. Nagoya, Japan.Wow, Expo is almost over! I can't believe it! The last month has been so busy with work, meeting friends and trying to travel as much as I can on my days off. The expo site itself is packed with people everyday. A few weeks ago there were almost 250, 000 people here!! Can you believe it, that is like 1/4 of Manitoba's population!! Yesterday there was a massive event on the Expo Plaza main stage were each country had people performing. Myself and 4 others wore our Tekujin units and did a diversity rap in front of thousands of people....it was one of those moments in life that I will never forget and definitely one of the highlights of Expo 2005. These last few days are going to be so much fun but very emotional.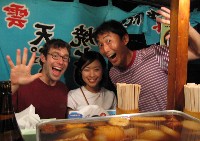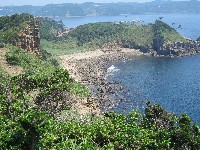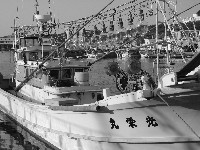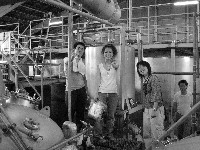 July 16-19, 2005. Kyushu, Japan. After my morning shift on the 16th I caught a flight to Fukuoka in Kyushu, which is in the south of Japan. I met up with some old friends for some great food, cold drinks and lots of laughs at a street side food stall called yatai. They are rolled out onto the streets every evening, it is an amazing transformation the city takes on at night! Then I was off to Iki, a small island 2 hours by ferry from Fukuoka, to visit with two more friends from Tokyo , one of which grew up on the island. Her family's house is actually an old shochu factory! They still had massive old wooden barrels that were used to store the traditional Japanese alcohol in the attic! We did some sightseeing, spent one afternoon on the beach at Tatsunoshima and ate fantastic homemade food including a BBQ!! This area is famous for it's squid and it was so much fun wandering around the boats in the port chatting with the fishermen. We even got to see the morning squid market! The day we left we also got a private tour of the local Shochu factory, fascinating! Thank you everyone so much!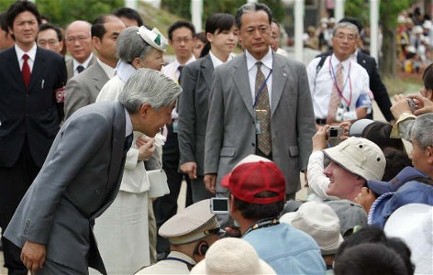 July 13, 2005. Nagoya, Japan. Imperial visit to the Canada Pavilion! Today the Emperor and Empress of Japan were visiting Expo including a stop at the Canada Pavilion. They were surrounded by dozens of men in grey suits as they strolled by hundreds of anticipating onlookers, mostly elderly Japanese, all sitting behind a blue rope that was stretched out on the ground! I was working at the time of this very special day at the Pavilion and was very lucky to be in the line-up of staff thanking them for their visit. And yes, I did get to shake both of their hands and have a small conversation with them! A very rare chance indeed! The above photo features the Royal couple and Douglas, a member of the Canada Pavilion staff, in the crowd. If you have time, visit Douglas's Blog, it's great!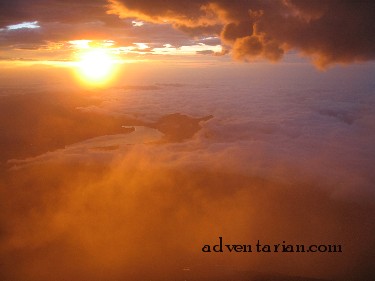 July 9-10, 2005. Mt. Fuji, Japan. To the Top of Japan...in torrential rains, fighting gale force winds, at night! My last few days off have been very busy including a trip to almost the top of this famous volcanic mountain. Mt. Fuji is the highest point of Japan at 3776m and is a very popular climbing destination with literally thousands making the ascent every year. We started our climb at 10:00 pm on the 9th so that we could see the sunrise (Goraiko) at 4:00 am the next day. It was a hard climb considering the conditions we were facing and almost made it to the top in time for the sunrise. We found some shelter behind a small mountain hut after changing into all of the clothes that we were carrying and settled in as much as we could to watch the first rays of light shine over Japan. It was the most beautiful sunrise that I have ever seen!! A rough but fantastic experience!! Thank you to all of the members of our group!!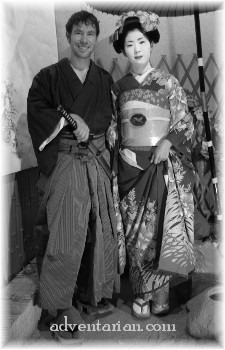 July 8, 2005. Kyoto, Japan. Today I became a Samurai!! In Kyoto, the ancient capital of Japan there are a few places where you can dress up as Geisha, Maiko (young Geisha) and Samurai...of course for a nominal fee! The prices differ depending if you want to go outside and walk around or if you choose the picture package, etc.., etc... it is quite the business. Anyway, a few of us Expo staff decided to go and give it a try and the next thing you know I am clumsily wacking things with my sword strapped to my side!! I enjoyed the day very much, especially the cold beer on the balcony overlooking the famous Kamugawa!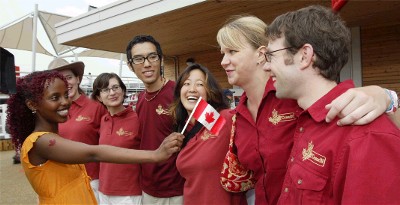 July 1, 2005. Nagoya, Japan. Happy Canada Day!! I hope everyone had a great time celebrating Canada's 138th birthday!!! We sure did at the World Expo 2005. We had a pancake breakfast with maple syrup in front of the pavilion and tattoed maple leafs (temperary ones of course) on hundreds of visitors. We also had a concert, on a little smaller scale than orginally planned because of rain, with performers such as Keshia Chante, Coral Egan, and Jorane. So much fun, I wish all my family and friends could have been here to enjoy the day together.
June 3, 2005. Nagoya, Japan. Party, Party, Party!! Today we a massive global common 2 staff party. Expo is broken into different sections and global common 2 is the Americas plus a couple of international organizations including the UN. We all worked together to organize this huge party with a variety show, live music and free drinks!! Over 1500 people came to the event which was held outside. After hours Expo....so much fun!!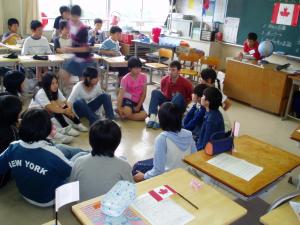 June 2, 2005. Nagoya, Japan. Back in School!! Today 7 members of the Hosting Staff at the Canada Pavilion, including myself, volunteered at an elementary school in nearby Seto City, which is famous for it's pottery. We arrived the period before lunch and were greeted like royality.... our tea even had cherry blossoms floating in it! After our briefing we split up to visit the classrooms. I had a sixth grade class and it was like a flashback to my days of teaching english in Wakayama-ken!! They showed me some traditional games and then we had lunch together. After cleaning I spoke to them about Canada and answered their many questions. It was so much fun!!! I hope that we can do it again some time!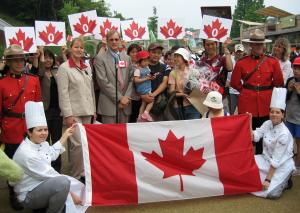 May 30, 2005. Nagoya, Japan. Today we had the 1,000,000 visitor to the Canada Pavilion! It was a family from a city close to Nagoya. There were TV crews here to capture the moment as well as a showing by the Morizo and Kiccoro mascots. It was so much fun to be a part of the excitment! So many people! I've seen more people in the last few months that I have seen in my entire life! Will we make it to 2,000,000?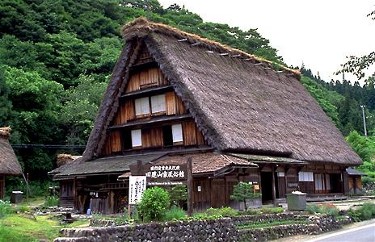 May 25, 2005. Shirakawa-go, Japan. The last two days I was camping in the beautiful UNESCO World Heritage Site of Shirakawa-go deep in the mountains of Gifu prefectures. This area is famous for it's Gassho-Zukuri houses. They are large thatched roofed A-frame structures made entirely of wood...no nails are used at all!!! Their large attic area was used for raising silk worms. They are a perfect example of human's harmony with the environment in which they live. All the building materials are locally collected and they are built in places and at certain angles to minimize wind resistance and use the sun to keep the houses both warm in winter and cool in the summer. They are also built to resist the weight of the large amount of snow that falls every winter. I wish I could have stayed longer to explore more of the mountains in the area!!!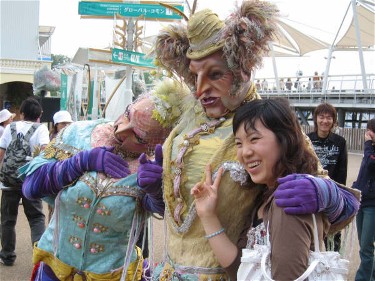 May 17, 2005. Nagoya, Japan. This evening some of the staff of the Canada Pavilion went and saw the Cirque du Soliel. They are amazing!!! I was entranced the whole night!! The atmosphere was magical! I can't believe some of the acrobatic stunts they were doing... I never would have imagined that the human body can do some of the things that they were doing!!! I was also one of the lucky members of the audience who got to go on stage and dance with the lead singer!!! Some of the members of Cirque also came to the Canada Pavilion for a photo shoot a few days ago!!! Very fun!!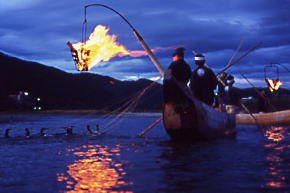 May 16, 2005. Gifu, Nagara River, Japan. Tonight we spent the evening relaxing on a boat watching Ukai (Cormorant Fishing). It is a traditional Japanese fishing technique where they use tame cormorants on leashes to catch Ayu (sweetfish) by torchlight! This form of fishing has ancient roots and appears in the Kojiki, the oldest written record of Japanese history compiled in 712! The fishing masters have a really cool title as well....Cormorant Fishing Masters of the Board of Ceremonies of the Imperial Household Agency! It looked almost surreal as the boats passed with the birds playfully plunging below the surface of the black water. Without the rope leash giving away their location, you would never even know they were there. The master waits for them to catch a fish and when it does, he pulls the cormorant onto the side of the boat, plucks out the fish and throws the bird back in the water!! Such an ingenious technique!! A fantastic evening!!
May 8, 2005. Kitayama River, Japan. Today I was able to go white water kayaking in the beautiful Kitayama Gorge in rural Wakayama Prefecture. When I lived in Japan I used to go there often so it brought back many great memories!!! The water is clear and quick and is lined on both sides by steep cliffs! It was so nice to be out in the wilds again interacting with the forces of nature after the action and excitement of Expo!! I'm refreshed now and ready to go back to work to meet the world with a smile!!!!! Thanks Katsu!!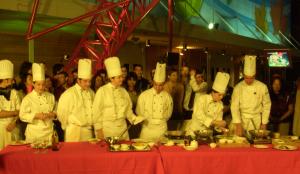 May 5, 2005. Nagoya,Japan. The Canada Pavilion goes live on Canadian National television!! Today CTV's Canada AM was shot live from in front of the Canada Pavilion at the World Expo in Japan!!! Hopefully some of you were able to see the show in Canada! How did I look?!!? They showed scenes from the Canada Pavilion as well as from some of the other sights around Expo. All of the staff were so excited to have the chance to be a part of the show, including me!! We were also able to wish all of our moms Happy Mother's Day!!! I love you Mom!!!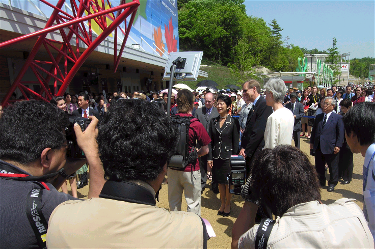 May 4, 2005. Nagoya, Japan. At the Canada Pavilion today we had a very special visitor, Her Imperial Highness Princess Takamado! She was there to help celebrate Anne of Green Gables Day. She has a very strong connection with Canada and it was very exciting for everyone at the Pavilion to have royalty come and visit. I was also very honored to be able to shake the Princess's hand as she was leaving!! But unfortunately I didn't get her phone number!!
April 27, 2005. Kyoto, Japan. Today was an absolutely fantastic day! I was very fortunate to go to Kyoto, the ancient capital of Japan, for a day of sightseeing with Shaye (www.shayemusic.com) the dyanamic Canadian Band from the East Coast. We went to two temples Kyomizu-dera and Sanjusangen-do. The first is perched on massive stilts looking over the city of Kyoto and the second is filled with statues of the Thousand-Armed Kannon (the Buddhist goddess of mercy). The main statue is flanked on each side with 500 life-size extremely detailed wooden carvings of the same goddess. A truely awe inspiring sight!! We finished off the day at a small Japanese style restaurant tucked away off of a romantic alley by the Kamo-gawa River. The day was filled with laughter and I'm sure that it will be one of my fondest memories of Expo! Thank you so much Shaye, you are fantastic, and I hope that we can get together again someday, somewhere!!!!
April 24, 2005. Nagoya, Japan. The World Expo is in full swing here in Japan. The weather is still sunny and warm, the rainy season should start the beginning of June. I still haven't had a chance to visit all of the pavilions although I did get to see the remains of the Mammoth from Russia. I can't believe how well perserved it was! The entire head and a leg were on display. Before we got on the converyor belt that took us by the ancient beast we saw I short movie on a 50m wide screen made by Sony!! Incredible images!!! So much to see and do, we are only a month into the Expo and I already feel like I'm running out of time!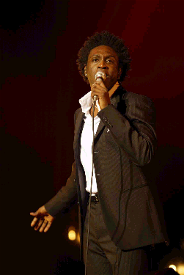 April 5, 2005. Nagoya, Japan. Canada day!!!! Every country has national day at Expo and we had ours today!! We handed out thousands of Canada flags and pins! Canada pavilion was running at full capacity, almost 200 people went through the doors every 8 minutes for hours on end, it was so busy!!! There was also a major concert with Corneille and Alanis Morissette! I did another live interview on TV as well! A fantastic, Canada day at expo!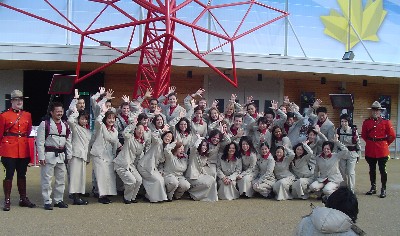 March 25, 2005. Nagoya, Japan. Opening day at Expo 2005!!!! This morning we had an opening ceremony in front of the Canada Pavilion. There was a ribbon cutting, gift giving and of course a rousing bilingual version of Oh Canada, Canada's national anthem. Our hosting team had the first shift in the morning and everything went fantastic!! There was of course a few glitches in the system but it was such a great feeling to finally start!!!
March 23, 2005. Hello from Expo 2005!! I'm in Nagoya, Japan at the Canada Pavilion! We are training now and are almost ready for opening day on March 25. The Pavilion looks fantastic and the multi-media show is unbelievable!!! We have been so busy and I was very lucky to be in two live Japanese programs yesterday!!! So exciting and stressfull, there is something about live TV that is really an adrenaline rush!!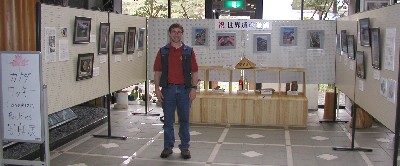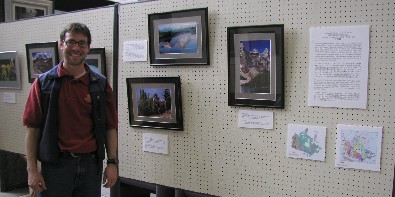 April 11, 2005. Hongu, Japan. I had three days off from Expo and headed back to Hongu, where I lived from 1999 to 2002. It was so great catching up with friends. We had a BBQ party and TakoYaki Party!! I also opened my first photo gallery! There are 18 pictures of the Rocky Mountains, a UNESCO World Heritage Site. Next summer I will be having a gallery of pictures from Hongu in Canmore. Hongu became a UNESCO World Heritage Site last summer. The idea is to have an exchange between UNESCO sites in Canada and Japan. It looks so great and I am very happy with it!! It is being held at Hongu Town Hall and will be showing until the end of May!! If you are in Hongu please check it out!!
March 6, 2005. I just got back from a weekend at our cabin in the Duck Mountain Provicial Park. The weather was great! We went snowshoeing and came across the bones of a recent elk kill! There wasn't any meat left on it but we did find some wolf scats in the area. Steve, my friend was very excited and in the commotion of the discovery almost fell onto it!!! Very funny!! We had a bonfire on the lake and watched the sunset. Once it became dark the northern lights came out and danced above our heads while our fire crackled at our feet. Absolutely mystical!!!
March 1, 2005. I'm at home in Gilbert Plains, Manitoba getting ready to return to Japan later this month. I will be working at the Canada Pavilion at the World Expo 2005 in Aichi, Japan! I am very excited! I will be leaving for Ottawa on March 9 for training and then the entire pavilion staff will be flying to Japan together. The Expo opens March 25th and closes September 25th. So I will be there for 6 months. I can't wait!!
February 15, 2005. Winnipeg, Manitoba It is so great to see my family again! I'll be in Manitoba until March 9th and then I'm off to Ottawa to start training for the World Expo 2005 in Aichi, Japan. That's right, I will be working at the Canada Pavilion as Hosting Staff! The Expo is from March 25 to September 25th, so I will be heading to Japan soon. I am very excited about this chance of a lifetime!
February 10, 2005. Kobe, Japan This weekend I'm going backcountry skiing with some friends in Niigata. It has snowed a tremendous amount there last week and the conditions should be perfect. One last adventure before heading back to Canada on the 14th.
February 6, 2005. Shingu, Japan Tonight I will be participating in an ancient festival called Oto Matsuri. About 2000 men, dressed in white with straw belts around there waists will climb up a series of steep stone steps....in the dark, after consuming massive amounts of Sake!!! Each person has a torch which we will light from a scared fire before racing down the mountain! Very exciting stuff, wish me luck!
January 31, 2005. Hokkaido, Japan I finished my sojourn here in Northern Japan and am heading south tonight. I really had a fun time in Hokkaido. The skiing was great and I met some awesome people. Thank you Rusutsu!! I will be in Tokyo for the next few days checking out the sights and sounds of one of the biggest cities in the world...a bit of a change from the mountains!
January 27, 2005. Hokkaido, Japan Another day, another ski resort. Today I went to Teine ski resort near Sapporo with some friends. We didn't really ski in the resort itself but went out of bounds the whole time. Great snow and exciting back country skiing....without the climbing!! Then we went to Sapporo for some Sushi and stopped by a hot spring on the way home. A perfect day in Hokkaido.
January 16, 2005. Niseko, Japan The last two days I have been skiing in Niseko, a fantastic ski area in Hokkaido, I met up with some friends and had a great time. Niseko has some exciting terrain to explore and we did our best to ski most of the mountain.
January 7, 2005. Hokkaido, Japan Today was my day off and I went back country telemark skiing with some friends. We climbed mount Yotei-san and had some excellent powder turns. Yotei-san is very close to Rusutsu Resort, in fact you can get some fantastic views from the top of the West Mountain (there are 3 mountains in the Rusutsu ski area: east, west and Isola). It is a volcanic mountain and it is the same conical shape as Mount Fuji...spectacular! Some people call it Ezo-Fuji (Ezo is the ancient same of Hokkaido). We skinned our way up to the tree line at around 1300 meters and then enjoyed the powder all the way back down!!!
January 1, 2005. Hokkaido, Japan (Rusutsu Resort) Happy New Year!!! Around New Years everyone reflects back on the past year. For me it has been a very busy one. Last winter I was in Fernie. In the spring I visited family and friends in my home town in Manitoba before returning to Canmore for a very exciting summer of hiking guiding in the Canadian Rockies. I spent the fall trekking around Nepal in the mighty Himalayas before coming here to Japan. It has been a busy year indeed!! I wonder where I will be next year? I wish everyone a happy and safe new year... filled with adventure!!
Brad Towle