Brad's 2007 Adventures in Japan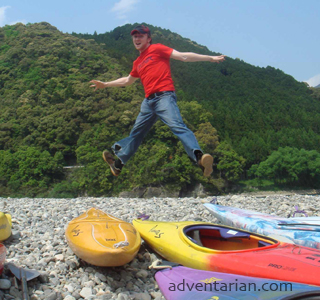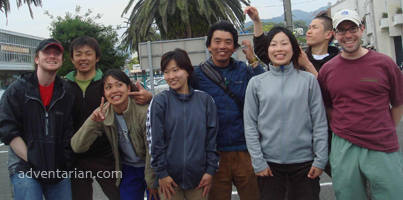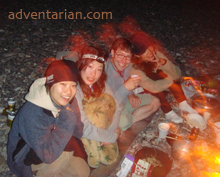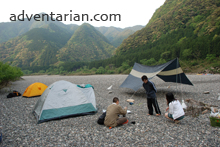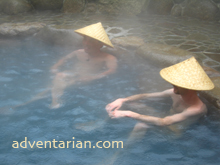 May 3rd to 6th, 2007. Kumano River, Japan. Every spring there is a holiday in Japan that is called Golden Week. Most Japanese rarely take time off so this time of year is their only chance to escape the concrete jungle. Kumano is always flooded with visitors; some local businesses say that the Saturday of Golden Week is their busiest time of the year. Myself and some close friends decided to spend the holidays kayaking down the Kumano River, the only river that is registered as a UNESCO World Heritage pilgrimage route. It is a part of the ancient Kumano Kodo that links the two Grand Shrines of the Kumano Sanzan: Kumano Hongu Taisha and Kumano Hayatama Taisha. We camped on the shore and had a great BBQ. After too many drinks I contentedly sleep by the campfire. Of course a soak in the onsen is always an integral part of a vacation in Kumano. We also did a day痴 kayak on the Kitayama River, a tributary of the Kumano River. We did the upper section in the impressive Dorokyo Gorge. Our guide Katsu was fantastic! If you are ever interested in Kayaking in Kumano, he is definitely your guy to contact.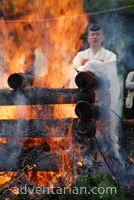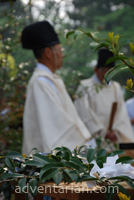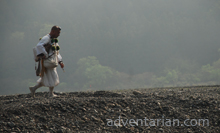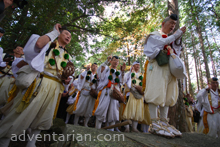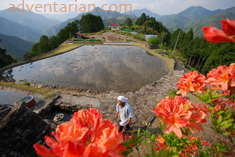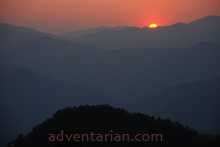 April 28, 2007. Hongu & Totsugawa, Japan. Every year the Yamabushi from Seiganto-ji Temple in Nachi do strict religious training on the Okugakemichi. It is a guided tour with many people joining the experience. They break up their walk into sections, working their way from Nachi in the south of Wakayama Prefecture to Omine and Yoshino in northern Nara Prefecture. Today was the section from Hongu to Tamaki-jinja shrine in Totsugawa. Everett Brown, a professional photographer from Tokyo came to cover it. They performed a fire ceremony in the morning and then walked across the Kumano River before heading up into the mountains. We were unable to walk with them this time but did photograph them at various places along the route. As they were working their way towards Tamaki-jinja we did a side trip to Hatenashi village on the Kohechi section of the Kumano Kodo Pilgrimage route. The rice fields were filled with water and they were getting to plant. A very peaceful place.
April 19, 2007. Hongu, Japan. The Wakayama World Heritage Center is now open!! It is located in the Hongu Administration building close to Kumano Hongu Taisha. I was able to meet with the Governor of Wakayama as well as participate in the ribbon cutting ceremony. I was dressed as a Yamabushi mountain ascetic and blew a conch shell. The Center has lots of pictures as well as a good overview map of the Kii-peninsula outlining the World Heritage registered Sacred Sites and Pilgrimage Routes in the Kii Mountain Range. There is a rest area with copies of ancient mandalas relating to Kumano, including the Nachi Pilgrimage Mandala, and we are in the process of creating an English language reference library. It is a good place to take a break and get orientated to this beautiful and sacred area of Japan.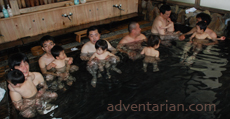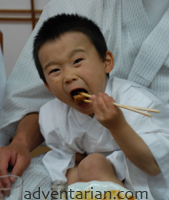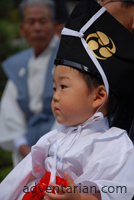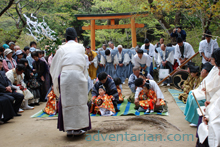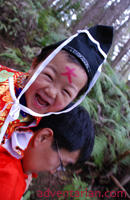 April 13 to April 15, 2007. Hongu, Japan. Spring is a time for festivals in Japan. Most Shinto based ones correspond with agricultural cycles, spring for planting and fall for harvesting. Kumano Hongu Taisha's festival takes 3 days. The first day is a ancient ritual of purification and right of passage. Young boys and their fathers, dressed in traditional costume make their way from the Grand Shrine to the sacred hotspring area of Yunomine. Here they purify in the hot mineral waters before crossing over a steep pass on the Kumano Kodo pilgrimage route. The children are like little emperors and not allowed to touch the ground the entire trip. A beautiful festival in the mountains. On the 3rd day a portable shrine is carried around the town. At Oyunohara, the old shrine ground of Kumano Hongu Taisha, a fire ceremony is held by Yamabushi before the dieties are returned to the shrine. This small traditional festival is definitely my favorite in Japan.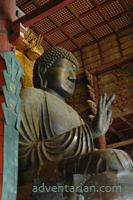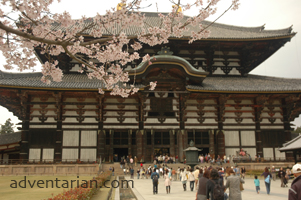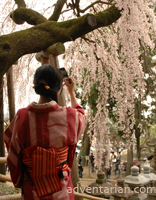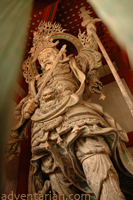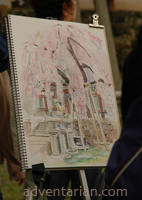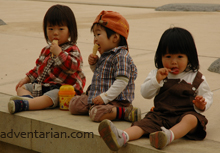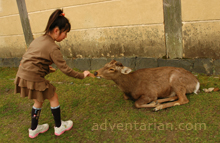 March 31 to April 1, 2007. Nara, Japan. Nara was the ancient capital of Japan and is a storehouse of history and the site of a giant Buddha at Tokai-ji Temple, the largest wooden building in the world. This 15 meter tall bronze statue of the Cosmic Buddha was originally cast in 752. No matter how many times I go to see it I am still amazed at the grandeur of the atmosphere. There are also hundreds of sacred tame deer that restlessly follow around the tourists. You can buy specially made deer crackers to feed them. The next day I went to visit Horyu-ji Temple, the oldest wooden structure in the world. A volunteer guide showed us around and it was really nice to get a more detailed explanation. The cherry blossoms were in full bloom so I took full advantage and had my picnic lunch under a tree graced with the delicate flowers. It is really nice sometimes to take a break from my crazy schedule to do some relaxing sightseeing.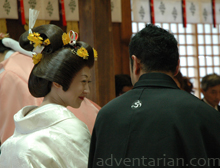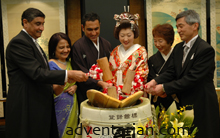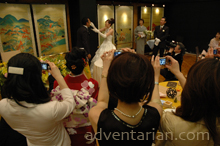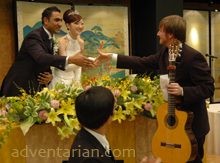 Osaka. March 24, 2007. After many years of living and traveling in Japan I finally had the opportunity to see a traditional Japanese wedding. A friend from the Canada Pavilion got married to his long time girlfriend in Tenmangu-jinja, a shrine in the heart of Osaka. The shrine itself is like an island of serenity in a sea of concrete chaos. It was raining slightly which brought out the colors of the moss on the lanterns in the garden: very romantic. The wedding ceremony took place inside traditional style buildings within this beautiful setting. Before exchanging the rings, shrine priests performed purification ceremonies for the couple and guests. He waved a wand with paper streamers on in the air above us swishing away the evil spirits. Everyone drank some sake, Japanese rice wine, to consummate their wedding vows. I was particularly impressed with the brides kimono and hair style, very big and elegant with lots of intricate decorations. The reception had great food, with a theme of sea bream, called Tai in Japanese. Omedetai means thanksgiving or congratulations. We ate Tai and some plates and cakes were also shaped like the fish. There were many emotional speeches from both sides of the family. There wasn't a dry eye in the shrine. Congratulations to the both of you and thank you again for including me in your special day.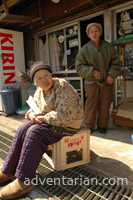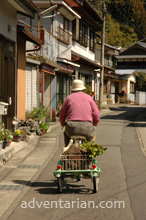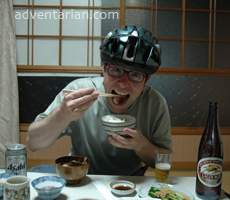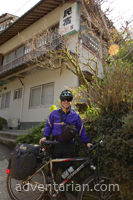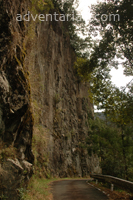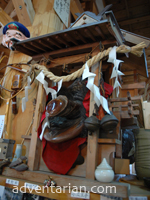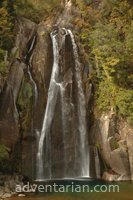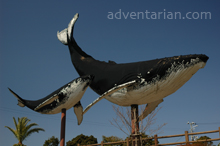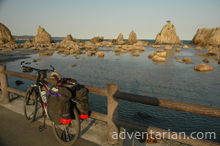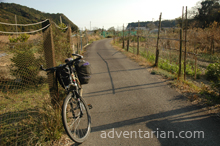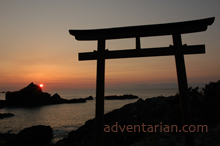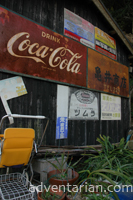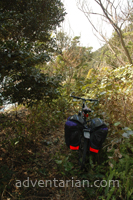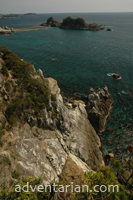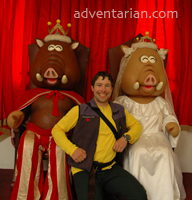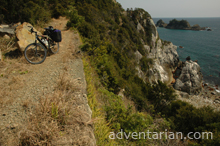 From March 18 to March 21, 2007 I went on a 4 day cycling tour of Kumano. My route followed the ancient Kumano Kodo pilgrimage route that pilgrims have been walking for over 1000 years, sometime running parallel to it and at other times riding on the more developed routes. I was testing out all of the side roads and old highways and am working on making a proposal for a Kumano cycling route that I知 planning to give to the Ministry of Highways staff that works in the area. It was a great ride and has huge potential, especially for foreigners looking to experience the rural cultural landscape of Japan and the World Heritage sacred sites of Kumano. My first day took me from Tanabe to Hongu where I stayed at the awesome little minshuku Wadama in Yunomine Onsen: a small Japanese style lodging with great atmosphere and friendly staff. My second day took me from Hongu to Shingu on the southern coast of the Kii-hanto peninsula. I found some great side roads and saw dozens of monkeys. A small highway along the beautiful Kumano River skirted beneath cliffs, had little traffic and passed through some quaint mountain villages. I also saw dozens of monkeys. The last two days was returning along the rugged coast back towards Tanabe. I spent the night camping at a free site at Shionomisaki, the most southern point of Honshu, the main island of Japan. The sunset was breathtaking!!! Especially with a Torii shrine gate silhouetted in the soft morning light. I explored the coastline and found some old roads that have turned into Jungle. I was so impressed with the small fishing villages that I passed through on my journey. It would be very easy to spend a week exploring this part of Japan by bicycle. Hopefully I can get out on my bike again soon!!!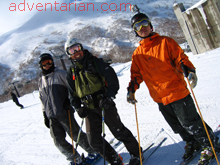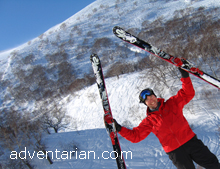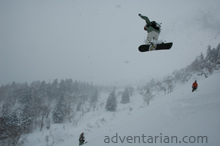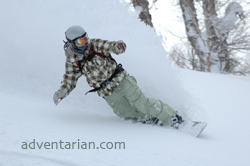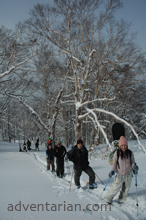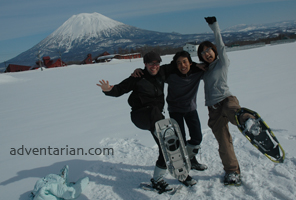 February 23rd - March 4, 2007. Hokkaido, Japan. Back to the snow in beautiful Hokkaido. It feels strange living in Wakayama where it is so warm and then going to the more wintery part of Japan for a few days skiing. It is like a season time machine! In Wakayama there are flowers blooming all year around and on the coast in Tanabe there is never snow on the ground. But further north in Japan it is a winter wonderland. I finally was able to get some time off to visit friends and let my skis free, to race down the mountain again. I spend some time in Niseko as well as Rusutsu. We had a big party there and of course ate all you can eat lamb and liters of beer!! We also did one day of back country skiing on the conincal Mt. Yoteisan. Lots of fresh tracks and big air! Snow really is the elixir of life!!!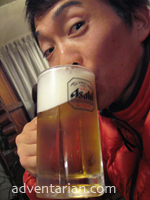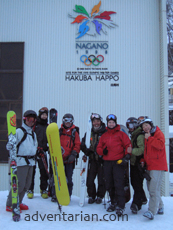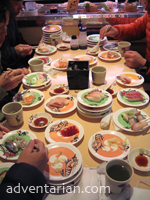 February 12th, 2007. Nagano, Japan. After being in temperate Wakayama all winter I finally got a chance to hit the ski slopes in Nagano, the former site of the 1998 Winter Olympics. I was telemarking for three days straight and my muscles are telling me all about it. Telemarking is a type of skiing that is a hybrid of between alpine skiing and cross-country skiing. The bindings are similar to cross-country, only having the toe attached but the boots and skis are more heavy weight like the ones used for alpine skiing. It takes strength, balance and a touch of elegance to be a good telemark skier. Thanks guys for inviting me along for a fantastic weekend.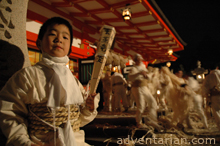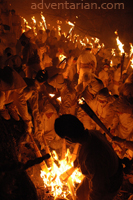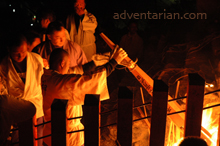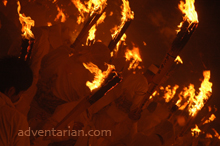 For almost 2000 years on the evening of February 6th at Hayatama Taisha in Shingu, the Oto-matsuri fire festival takes place. Over a thousand men of all ages dress in white, and wearing straw sandals and straw rope wrapped around their waist, they climb a step stone staircase to the base of teh sacred Gotobiki-iwa rock. There they wait anxiously for the holy fire to light their torches and begin their descent. The wild energy of the young men battling for the best position to run down the steep slope filled the air, mixing with the billowing smoke that fills the air. The shrine gat is then thrown open, releasing the firery dragon to race down the side of mount Gongen in a stream of flames. Man and fire seem to join as one in the feverish excitement of this ancient festival in Kumano.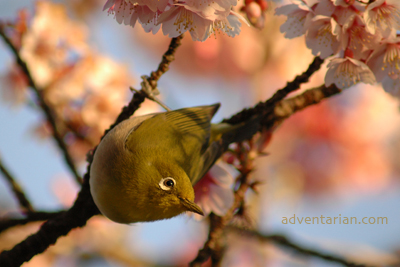 February 4th, 2007. Tanabe, Japan. Spring is here in Southern Wakayama!! I caught this beautiful Mejiro bird flitting amongst the ephemeral blossoms of an early blooming Sakura, or cherry tree. The ume, or Japanese Apricot, will also be blooming soon, turning all of the surrounding hills into a panoramic floral display. Ume are pickled to make umeboshi, a sour pickle that goes great with rice. Ume are also used to make sweet ume juice and umeshu, or ume liqueur. Tanabe and neighboring Minabe are World Famous ume producing areas. I personnally like an umeboshi in a warm glass of shochu alcohol!!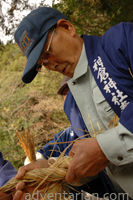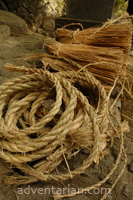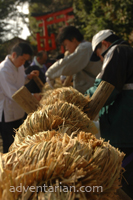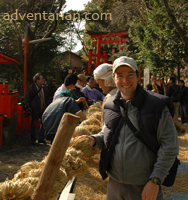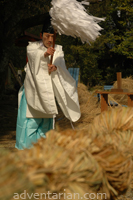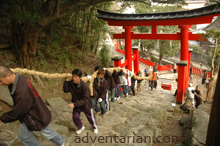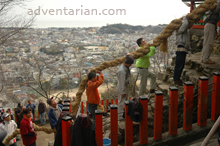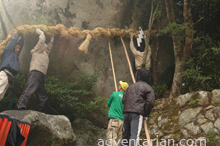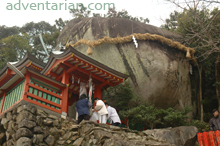 January 28th, 2007. Shingu, Japan. The Japanese religion Shinto is as old as Japan itself. It forms the roots or essence of Japanese society. It is more than an animistic folk religion though, it can also been considered a communal way of life. Kami, or dieties, are the object of veneration. But to describe a kami is difficult even for the advanced scholars of Shintoism because there are no religious scriptures or books like other religions like Islam, Buddhism or Christianity. Basically anything that causes feelings of awe or reverence can be considered a Kami. Phenomenon like growth and fertility; natural objects like wind, rocks, waterfalls, sun, trees, mountains, etc; also animals like the fox and snake are all considered Kami. Ancestor spirits and great people are also considered a Kami. The emperor was also considered a living Kami and divine descendant of the sun Kami, Ameterasu Omikami, until 1945 when the US occupation forced him to renounce his divinity. In Shingu, one of the Kumano Sanzan, or Three Grand Shrines of Kumano, one of the main objects of veneration is a large rock, called Gotobiki-iwa. Every year the local people change the sacred shimenawa straw rope that symbolically represents its sacredness. The pictures above are from the making and changing of the Gotobiki-iwa shimenawa.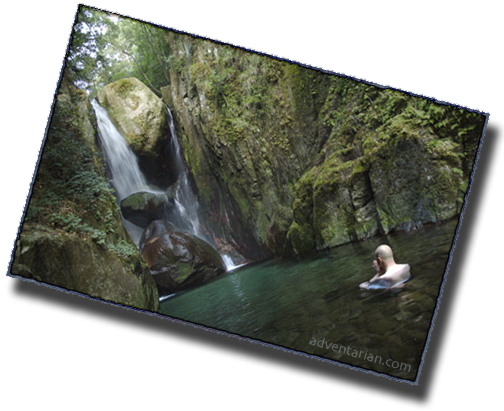 January 13, 2007. Nachi, Japan. Kumano is home to yamabushi mountain ascetics of the Shugen sect of Buddhism. They go into the mountains and do strict religious practices. After gaining strength from the mountain spirits they return to civilization with their new found powers. They are kind of like shamans who perform purification rituals and exorcisms. I went to see Takagi-san, a yamabushi form the Seiganto-ji Temple in Nachi perform Taki-gyo, training in a waterfall. In the picture he sits in hypothermic meditation in cold water in the sacred mountains of Kumano.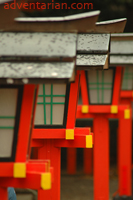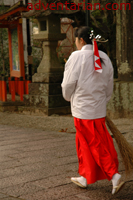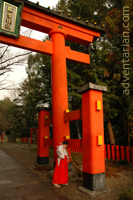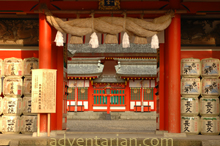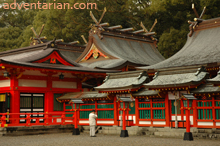 January 7, 2007. Shingu, Japan. At last Kumano Hayatama Taisha, our destination!! Kumano Hayatama Taisha is one of the World Heritage designated Three Grand Shrines of Kumano and the termination of the Iseji. We made a morning visit to the shrine, a small flurry of snow flakes added to the mystical atmosphere. Shrine maidens were scurry about doing the morning ground clean-up; shrines are always very well kept. We threw a 5 yen coin into the offering box and rang a bell attached to a thick rope. After that we bowed twice, clapped our hands together twice at chest height and then bowed again in the tradition way of worship. I personally thanked the local dieties for making our pilgrimage a safe and enjoyable one and that the upcoming year will be one full of adventures.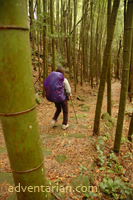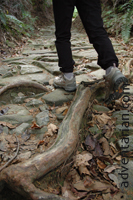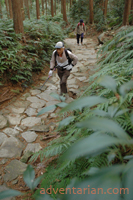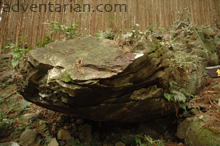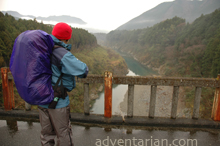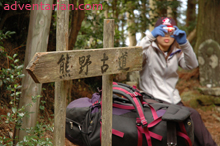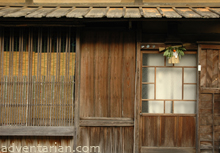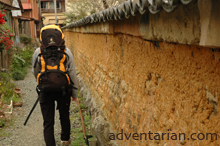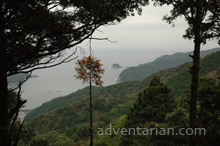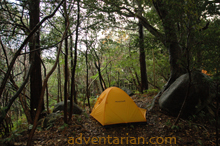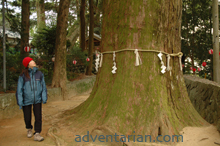 January 4, 2007. Kii-Nagashima, Japan. I'm in the middle of a week long pilgrimage from Ise Jingu to Kumano Hayatama Taisha (one of the three sacred Grand Shrines of Kumano). I'm walking the Kumano Kodo; a network of pilgrimage trails connecting sacred sites in the mountains of the Kii pennisula of Japan. Tonight I was able to soak and relax in one of the hotsprings along the way. My tent is set up by the beach and I'm looking forward to letting my spirit rest before I continue tomorrow. Until now I have been in the mountains and finally arrived at the coast. I'll follow this rugged coastline for the rest of the trip climbing over passes that will offer views of the Pacific. When I reach the city of Kumano I'll follow Hama-kaido section along the long rocky Shichirimi-hama beach to Shingu. I still have many footsteps ahead of me as did the pilgrimages of the past did before me; I wonder if they were as happy to see the ocean as I was.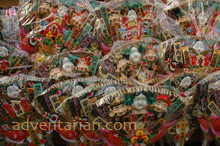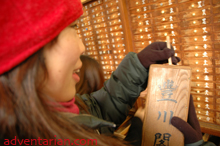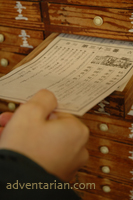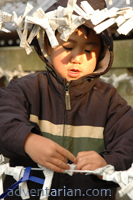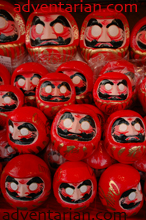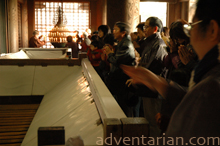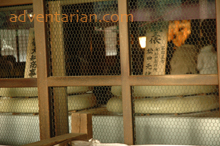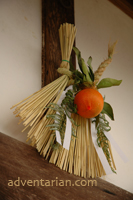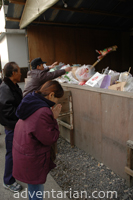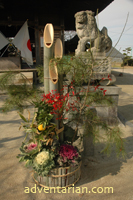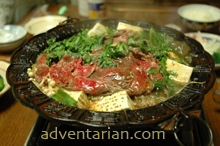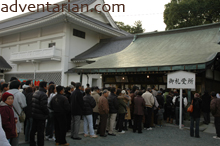 January 1, 2007. Ise, Japan. Happy New Year! 2006 has come and gone and what a busy year it was. I set a personal record with 7 flights over the Pacific Ocean between Canada and Japan. I'm now Elite status with Air Canada and have unlimited access to the VIP Lounges, including the all you can drink beer dispenser! My wallet is still paying the price though. I don't think that I will be able to travel as much this year. New Years in Japan is a great time; lots of action, especially around the temples and shrines. Almost everyone makes a trip to their local shrine or a pilgrimage to a famous one for the first worship of the year. People are coming and going all night and into the next day. There are food stalls selling all sorts of things including one of my favorites, tako yaki (chopped octopus in batter cooked into small round spheres of steaming goodness about the size of a golf ball). There is also a mad rush to return the previous years amulets and buy new ones for the upcoming year. Omikuji is also a very popular. You shake a box with numbered sticks to get a number. Then retrieve a fortune paper from a drawer with the same number. After you have read what is awaiting you in the new year you tie the paper to a rack or the branch of a tree. Luckily my fortune looks good! I wish everyone the same for the upcoming year!!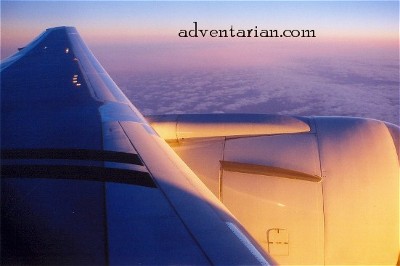 Brad Towle